mySanitas
Managing your healthcare has never been so easy.
Sanitas offers you every way possible to get the care you need, when you need, from wherever you are. Our new app keeps you connected to Sanitas care teams, healthcare resources and your health details from wherever you are.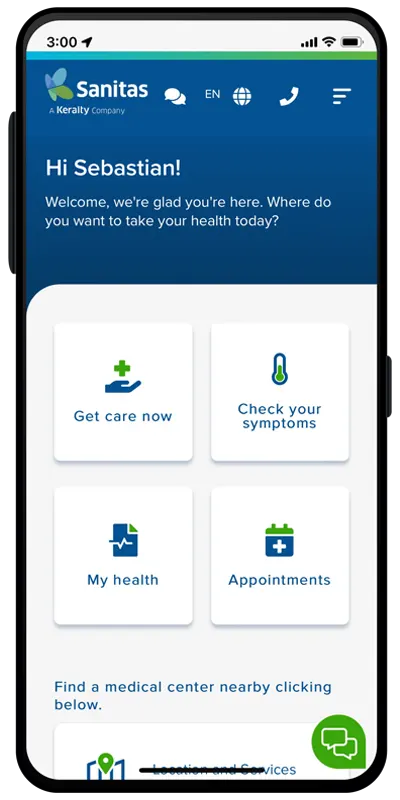 Connect to our doctors and care teams: on the phone, video or chat, or use our state-of-the-art symptom checker

Manage and book in-person or televisit appointments, at your convenience

Access personal health records, get visit details, medications, labs, tests, imaging, shots and more

Get real-time support from Sanitas nurses and health coaches, plus personalized care programs to manage your conditions and health goals

Tap or click for care on demand.
Online or on the go, Sanitas patients with Florida Blue or BlueCross BlueShield of Tennessee can manage their health with care on demand from wherever you are. Download mySanitas app today!
Care designed with you in mind.
"Multi-tasking is my middle name."

Tap the app to manage and book appointments.

"I think my allergies are acting up."

Televisits give you care from home.

"I can't remember my last checkup."

Your personal health record at your fingertips.

"I wonder if this is a sinus infection or a cold?"

The symptom checker gives you answers on demand.

"She's the apple of our eye."

Peace of mind knowing Sanitas is just a tap or click away.

"I can be there in 20 minutes for an x-ray."

On the phone or in person, you'll always work with a Sanitas expert.

"My sugar levels have been off."

Chronic condition programs keep your health in check.
To know us is to trust us.
50% more time spent with patients | 94% satisfaction rating | 100% love working here, and taking care of you
Frequently asked questions
Sanitas Medical Center is an independent medical center, serving people covered by Florida Blue and BlueCross BlueShield of Tennessee (or other Blue Cross Blue Shield plans), Medicare beneficiaries or those self-paying for medical treatment. 
Florida Blue and BlueCross BlueShield of Tennessee are Independent Licensees of the Blue Cross and Blue Shield Association.