Sanitas has put down roots in Tallahassee
Health care that's more affordable and convenient is here. 
Sanitas has opened four new medical centers to serve you:
Open the door to doctors and care teams you can trust.
Sanitas and Florida Blue. Better together.
When you become a member of the Florida Blue family, you become a VIP at Sanitas (Very Important Patient). Plus, you'll get convenience, cost savings, and care that goes beyond what you'll experience anywhere else.
$0 copay for doctor visits

As a Florida Blue member, you get unlimited $0 primary care visits and two $0 urgent care visits at all Sanitas locations.

Healthcare on your time

Open late and weekends or on the app, get care whenever you need it, from wherever you are.
$0 virtual care 24/7

On the phone, video or text, the mySanitas app is always on and always accesible. Connect with a dedicated Sanitas care team to save time and money.

Extra special care that comes with no extra costs

Get the attention you deserve from a team of experts who take your care to heart. Coordinating your care means you're covered head-to-toe, inside and out.
Always on. Always by your side.
At Sanitas Medical Center you get access to all the care you need, all in one place:
Primary care
Telehealth
Urgent care
Dental care
Labs, imaging, diagnostics
Vaccines
Nutrition and wellness 
Chronic condition care programs
With locations in your neighborhood and more on the way, you can visit us in person, or text or call us from the comfort of home. When you need a care team you can count on, we're always on and always by your side.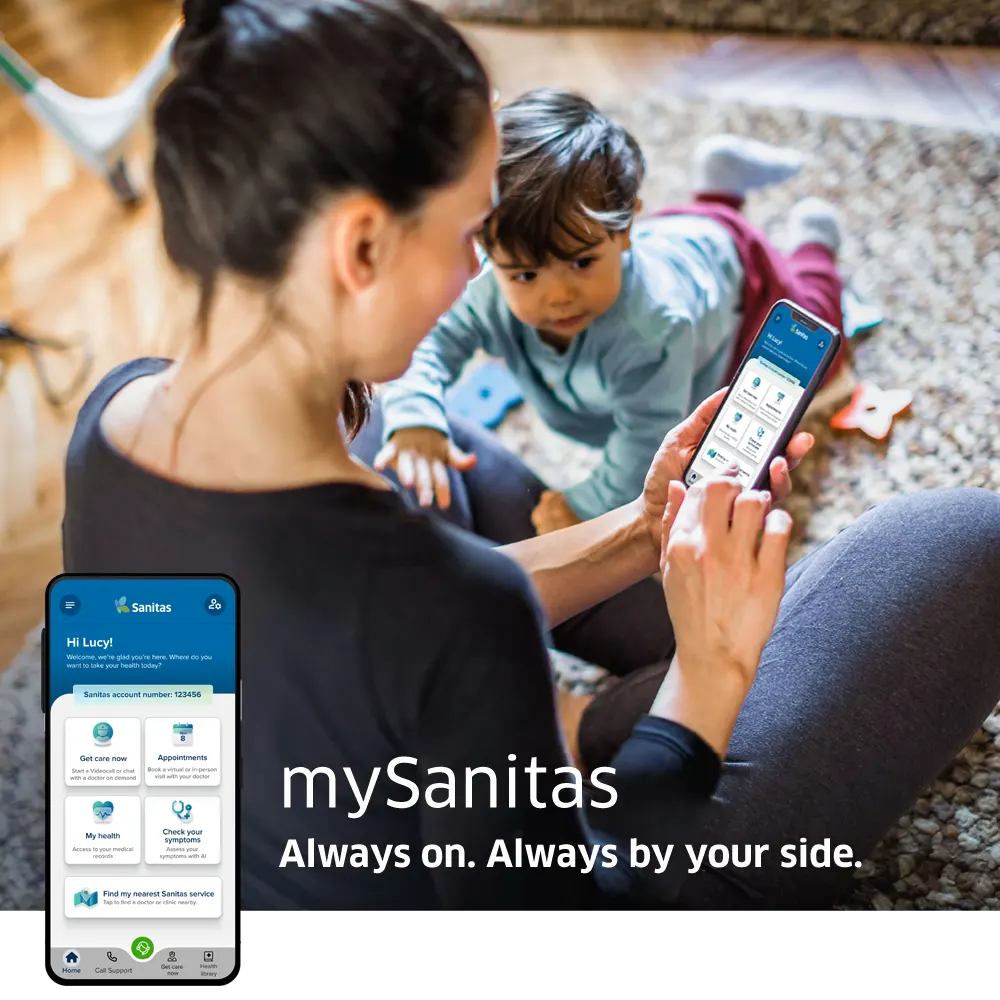 Your health.
We have an app for that.
Connect to our doctor and care teams 24/7: on the phone, video or chat, or use our state-of-the-art symptom checker.
Get real-time support from Sanitas nurses and health coaches, plus personalized care programs to manage your conditions and health goals.
Manage and book in-person or televisit appointments, at your convenience.
Access personal health records, get visit details, medications, labs, tests, imaging, shots and more.
Expert care covered by Florida Blue.
Sanitas Medical Centers are in the Florida Blue network.
You'll save money with $0 and lower-cost services—and get the quality care you deserve.
That's why we're better together.
Care designed with you in mind.
"Staying active is a requirement in our family."

Health and wellness programs tailored to fit your life.

"My diabetes and high blood pressure are dragging me down."

Get help with managing your chronic conditions.

"Time to see a doctor? No can do."

Schedule a televisit or text with our care team.

"I'm not feeling like my usual self."

Health programs tailored to your needs.

"Kids! If there isn't something every day."

Sports physicals, walk-in urgent care and app resources keep life moving.

"Surgery won't stop my momentum."

Follow-up care means we're always with you.

"I don't have time to run all over town."

Healthcare all under one roof and at the tap of a button.
To know us is to trust us.
50% more time spent with patients | 94% satisfaction rating | 100% love working here, and taking care of you

Places and faces for care your way.
At Sanitas, you're a VIP (Very Important Patient). Your dedicated primary care doctor and a team of nurses, care coordinators, and nutritionists ensure you're cared for, the way you want to be. Choose your care team or choose the location closest to you.
Outstanding Florida medical center: Many of our Florida locations have received official Patient-Centered Medical Home (PCMH) accreditation from the National Committee for Quality Assurance (NCQA). This recognition signals our commitment to making sure patients get the care they need in wellness and illness, to heal body, mind and spirit. Read more about our commitment here.
Sanitas Medical Center in Florida has received the American Heart Association's Target: Type 2 Diabetes℠ Gold Award for outpatient practices implementing quality improvement measures addressing the relationship between diabetes and cardiovascular disease. Read more here.
Sanitas Medical Center is a Value Choice Provider, a designation Florida Blue gives to some in-network providers including Sanitas. Primary care and urgent care visits at $0 do not apply to Health Savings Account (HSA) plans; the deductible will still apply. A total of two (2) urgent care visits are $0 for non-HSA plans regardless of which Value Choice Provider rendered services. After that, the urgent care cost share applies. Sanitas is an independent medical center, serving people insured by Florida Blue (or other Blue Cross Blue Shield plans), original Medicare or self-paying for medical treatment.
Florida Blue is an Independent Licensee of the Blue Cross and Blue Shield Association.