4 Delicious breakfasts
Nutrition & fitness / Sanitas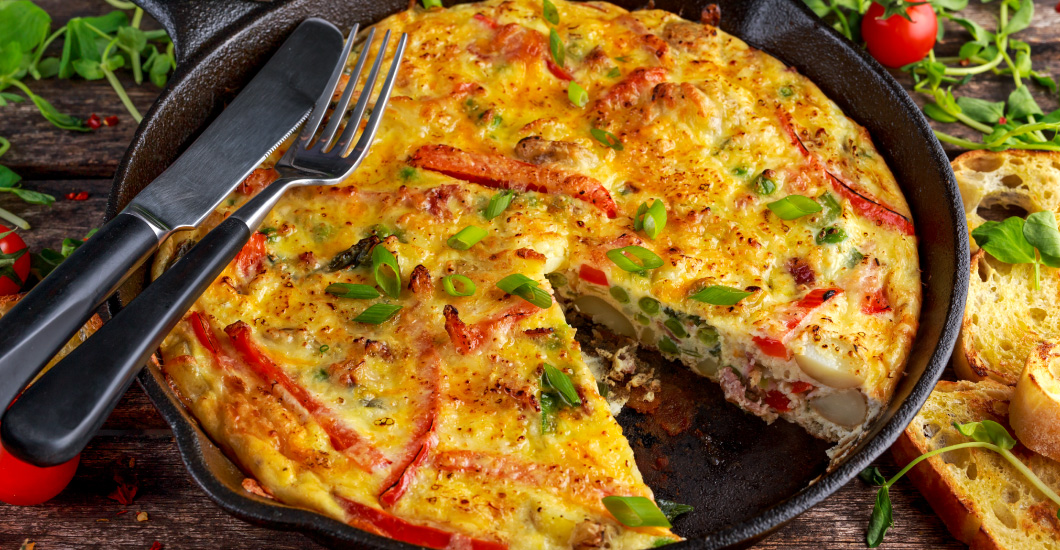 4 delicious breakfasts options for people with diabetes 
Coming up with delicious breakfast options can be tricky for people with diabetes because so many popular breakfast options are high in carbohydrates. A diabetic typically must manage how many carbs are consumed to properly manage their blood sugar levels.
When considering breakfast options, diabetics should opt for those high in protein and fiber, contain healthy fats, and provide low to moderate amounts of carbs.
Below are some of our favorite breakfast options hand-picked by Sanitas nutritionists for people with diabetes. But you don't have to have diabetes to enjoy these delicious, healthy options! A good breakfast can help keep you healthy regardless of your age or health conditions. Let's dive into this tempting experience!
But first, let's review some nutrition basics…
Dietitians divide food into four basic categories: Carbohydrates, Proteins, Lipids and Processed Foods. We need all four of these in different amounts, depending on our health conditions and age.
1.    Carbohydrates (also referred to as carbs or sugars)
Carbs are the fastest way to obtain energy from food. They can be simple like sugar and sweets, or complex like starch. Both forms are easily absorbed and when consumed in large amounts they are stored in our bodies as fat.
Fiber is a carb that our bodies cannot digest, which is good since it feeds our gut bacteria and helps prevent constipation.
Carbs are not essential for our lives, but they are extremely useful when we need energy. Most foods that contain carbs also come with good amounts of vitamins and minerals.
Vegetables and fruits, cereals, legumes, and products made of them are examples of carbs. Sweets and plain sugar are carbs that do not have any vitamins or minerals.
2.    Proteins
Proteins are essential for our bodies' normal functioning. They are the "building bricks" that our cells use for growth and repair. Besides, there are some proteins that cannot be produced by our bodies.
All meat (including fish, pork and cow), eggs, dairies, beans and legumes contain high amounts of proteins.
3.    Fats (also referred to as fats)
Fats are very important for our bodies. They are usually seen as the bad guys, but the truth is they are essential for life to exist. Fats are present in all of our cells, in our brains, and even in our hormones. 
There are two basic types of fat. Saturated fat mostly comes from animal products such as some meats, butter, dairy products and eggs. Unsaturated fat, on the other hand, usually comes from vegetable seeds.
Some vegetable oils (such as coconut and palm) have high concentrations of saturated fat. Similarly, seafood has high concentrations of unsaturated fat.
4.    Processed foods 
Processed foods are those that have been changed in their original nutritional composition. Its processing can add or take away components, and is aimed to enhance flavors, shelf life or nutritional characteristics.
Processed foods are not necessarily harmful. They can add vitamins and minerals to foods that originally do not have. Diets with low to moderate presence of processed foods are not bad. However, processed foods might have hidden sugar and sodium, or an excess of unhealthy preservatives.
Current recommendations suggest avoiding eating processed foods and always checking the Nutrition Facts label. When eating processed foods, you should prefer those labeled as no salt added, no sugar added, and low- or reduced-sodium and sugar.
Now that we are up on the basics, let's share some breakfast ideas!
Diabetes-friendly breakfast options
First, it is important to say that there is no "diabetes diet". There are many options of healthy breakfasts and meals that can help maintain normal sugar levels and weight. Just remember the basics: prefer breakfasts with high concentrations of protein and fiber and always support your diet with physical activity.
The following options can be healthy both for persons with type 1 and type 2 diabetes. There are plenty of choices to start your day, so don't be shy and give them a try for yourself! It's fun and healthy!
Greek yogurt parfait
Greek yogurt is a high-protein dairy product. It has less carbs and sugar than regular ones and provides you with healthy bacteria for your gut. Berries will increase freshness, and nuts will add crunchiness and healthy fats.
Serving size: 4
Prep time: 5 minutes
Ingredients:
1 cup Greek yogurt
1 medium banana
0.5 cups of cereal
0.25 cup of chopped nuts of choice
1 cup fresh berries of choice
Instructions: 
1.    Rinse and dry berries. 
2.    Blend 1 medium banana with 1 cup of Greek yogurt until smooth. 
3.    Now it's time to assemble the parfaits in your 4 containers. Alternate the banana yogurt with a sprinkle of nuts and berries until each container is filled. 
4.    Top each parfait with 2 tablespoons of cereal.
Note: Do not add sugar or sweeteners to the preparation: they mask the original flavors and diminish the preparation's healthy properties.
Frittata
Eggs are considered superfoods, a term that has been used by the market to emphasize the nutritional properties of some foods. Eggs are the most complete source of proteins and provide biotin, a vitamin involved in hair, skin and nail health. Adding non-starchy vegetables such as broccoli, spinach, kale and tomatoes will give crunchiness and fiber to the preparation.
The frittata, an Italian version of the French omelet, is a quick preparation that can be used both as breakfast and supper. You can add other proteins such as turkey sausages, and baked potatoes and herbs such as fresh basil to enhance flavors.
Serving size: 2
Prep time: 10 minutes
Cook time: 20 minutes
Ingredients:
2 whole large eggs
5 large egg whites (or ¾ cup)
¼ cup nonfat milk
¼ pounds of turkey sausage, sliced into ½-inch rounds
½ pounds of red potatoes, diced
2 cups of mushrooms, sliced
1 medium onion, finely chopped
1 tomato, diced
4 oz spinach
½ cup of chopped basil
2 cloves of minced garlic (about 2 teaspoons)
¼ teaspoon ground pepper
1 teaspoon of extra virgin olive oil
Instructions: 
Rinse and dry all produce. Wipe mushrooms with damp cloth and slice. Slice sausages. Dice potatoes and tomatoes. Peel and half onion then finely chop. Slice mushrooms. Chop basil. Peel and mince garlic. 
Whisk together the whole eggs, egg whites and nonfat milk together. Stir in chopped basil and ground pepper.
Heat oil in an oven-safe skillet over medium-high heat. Add potatoes and sauté for 3 minutes. Add minced garlic and stir until fragrant, about 30 seconds. Then add sausage, onion and tomato and cook for 3 more minutes. Add the mushrooms and cook for 2 minutes, stirring several times. Add the spinach and stir until wilted.
Pour the egg mixture into the skillet and gently stir to incorporate the vegetables and the sausage. Make sure all the mixture spreads throughout the pan. Turn the heat to low and cook it for 10 more minutes.
Finally, place the pan in the oven on high broil for 2 minutes to brown a little. Allow to cool for 5 minutes before slicing. Loosen its edges with a knife, cut in half (the serving size) and slip each half onto an individual plate. 
The frittata is delicious hot out of the oven, room temperature or even cold!
Chia seed pudding
Chia seeds are incredibly rich in nutrients, especially antioxidants, minerals, fiber and unsaturated fat. They also help reduce blood sugar levels. They can be used in a variety of foods, and can be eaten toasted, raw in salads or merely hydrated.
Serving size: 4
Prep time: 5 minutes
Total time: 65 minutes
Ingredients:
¼ cup chia seeds
1 cup unsweetened vanilla almond milk
1 lemon 
½ teaspoon lemon zest
1½ teaspoon lemon juice
1 tablespoon honey
2 cups fresh berries of choice
Instructions: 
Rinse and dry lemon, then zest and cut in half to juice.
In a small mixing bowl combine chia seeds, almond milk, honey, ½ tsp lemon zest, and 1½ tsp of lemon juice. 
Put the mixture in the refrigerator for at least one hour (best overnight) until chia seeds soak up and the mixture becomes a pudding consistency.
Serve ⅓ cup pudding in a small bowl with ½ cup berries of your choice.
Peanut butter granola
Nut butters contain high amounts of healthy fat without the saturated fat dairy products have. Nut butters can be easily made at home by grinding nuts into a paste. Besides, a home-made granola will provide you with a variety of seeds that will complete your healthy fat profile.
Serving size: 4
Prep time: 5 minutes
Total time: 65 minutes
Ingredients:
1 cup raw cashews, chopped
1 cup raw pecans, chopped
1 cup raw pumpkin seeds
1 cup raw sunflower seeds
1 cup old fashioned rolled oats
¼ cup peanut butter
¼ cup vegetable oil 
2 teaspoons stevia
Instructions: 
Preheat the oven to 300 degrees and line a baking sheet with parchment paper. Coat it with cooking spray and set aside.
Combine cashews, pecans, pumpkin seeds, sunflower seeds and rolled oats in a bowl. Set aside.
In a separate, microwave-safe bowl, combine peanut butter, oil and stevia. Microwave until melted, about 1 minute. Then pour the peanut butter mixture over the oat/nut mixture and stir to coat.
Spread the mixture onto the baking sheet in a single layer. Bake for 45 minutes, stirring every 10 minutes. After cooking, remove from the oven and let cool completely. 
Break up the granola and store in an airtight container. Serve portions of ¼ cup.
And don't forget to discuss it with your registered dietitian!
At Sanitas we have qualified registered dietitians to help you with your meals. Enroll now and set up an appointment! At Sanitas we take care to heart!