Tips for making healthy Cuban food
Nutrition & fitness / Sanitas Medical Center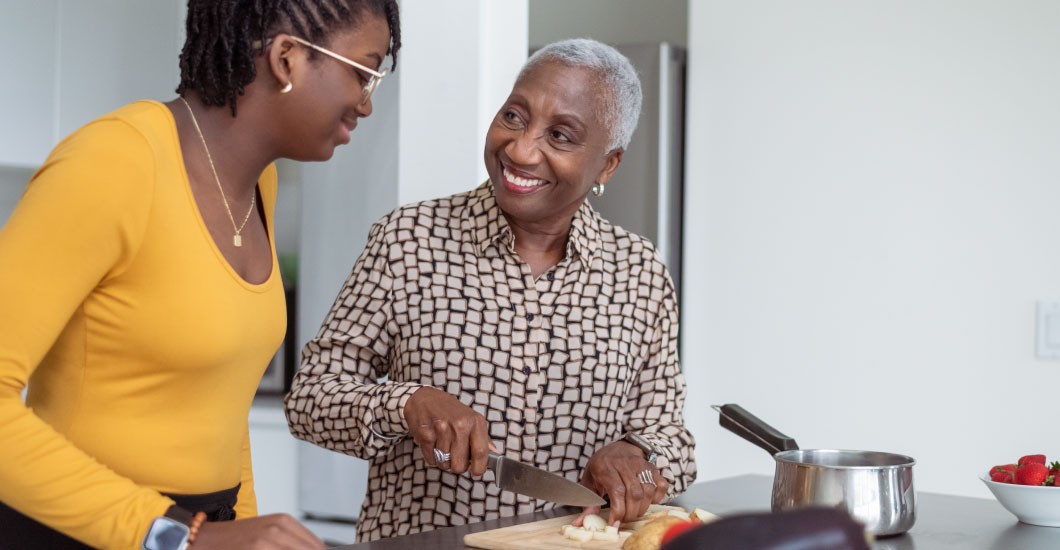 In honor of Hispanic Heritage month Sanitas Medical Center will be celebrating a variety of Latinx cultures and highlighting traditional Latin cuisines. Join us this week as we celebrate the culture and cuisine of the Cuban people.
Just one hundred miles off the coast Florida lies Cuba, a country rich in both history and culture. What better way to begin to explore the uniqueness of Cuban culture other than its incomparable cuisine. Common Cuban cuisine includes meals such as Yuca Con Mojo, Lechon Asado, and Flan. Although these dishes may be delicious, many of them could be nutritionally improved. Here are some healthy twists on traditional Cuban cuisine for you to enjoy.
Appetizers
Yuca con Mojo
Try sweet potato instead of yuca or mix in sweet potato along with the yuca. Sweet potatoes have anti-inflammatory properties. They are high in beta-carotene, vitamin C, and magnesium. They also aid in digestion because they have a high content of fiber.
Papas Rellenas
Replace the ground beef with ground turkey, which has a lower fat content. To lower the fat content even more, avoid using margarine in the potato mix. Also, bake the potatoes in the oven versus frying them.
Croquetas
Stuff the croquetas with ground chicken or turkey, instead of using ground beef. Sauté the onions and/or peppers with "cold pressed" olive oil so you get the benefits from the unsaturated fats versus the saturated fats that you find in margarine or butter.
Sandwich Cubano
Use 100% whole wheat bread to add fiber. Replace the ham with turkey for less added fat. If you are looking to lower the sodium content, cook your own turkey at home rather than buying the cold cuts that have very high sodium content.
Lunch & Dinner
Lechon Asado
Use chicken or turkey instead of pork. This helps you decrease the intake of calories and fat in a single serving.
Ropa Vieja
Replace the beef or pork with chicken or turkey. Add vegetables to the sauce such as peppers, onions, mushrooms, etc. for additional vitamins and minerals.
Fricase de Pollo
Add non-starchy vegetables to the mix to lower the amount of carbohydrates consumed. To name a few: broccoli, mushrooms, asparagus, celery, peppers, green beans, and cabbage.
Picadillo
Replace the ground beef with ground turkey. If you want to keep the ground beef, look for the kind that is 96% lean and only 4% fat. Also, if you have the extra time, use fresh tomatoes for the sauce, rather than the canned tomatoes. Canned foods have additives and chemicals that may not be healthy for you in the long run.
Dessert
Arroz con Leche
To increase the amount of fiber in your diet, instead of white rice, pick whole grains like brown rice, quinoa, buckwheat, or barley, to name a few. Also, rather than adding sugar for sweetness, try stevia or monk fruit sugar. You will get the same sweetness, without it having the same effect on your blood sugars.
Flan
Replace 1 cup of sweet, condensed milk with 1 cup of pumpkin puree for added benefits such as fiber, vitamin A and C, potassium, and iron. If feeling adventurous, add ½ teaspoon of cinnamon, which is anti-inflammatory, antioxidant, helps lower blood sugar levels, and protects heart health.
Pastelitos de Guayaba
If making the pastelito from scratch, replace the butter used to make the dough with equal amounts of applesauce. If the recipe calls for refined sugar, use monk fruit sugar instead – it contains less carbohydrates than actual cane sugar.