Always by your side.
At Sanitas Medical Center you get access to all the care you need, all in one place:
Primary care
Telehealth
Urgent care
Labs, imaging, diagnostics
Vaccines/COVID-19
Chronic condition care programs
With locations in your neighborhood, you can visit us in person, or text or call us from the comfort of home. When you need a care team you can count on, we're always by your side.
Sanitas and BCBSTX. Better together.
When you become a member of the Blue Cross and Blue Shield of Texas family, you become a VIP at Sanitas (Very Important Patient).
Onsite health plan support

Receive face-to-face customer service from BCBSTX in the same place you get your care—so you can get the most from your plan.

Healthcare on your time

Open late and weekends or on the app, get care whenever you need it, from wherever you are.
Virtual care

Connect with a dedicated Sanitas care team on the phone, video or text using the mySanitas Chat app to save time and money.

Extra special care at no extra cost

Get the attention you deserve from a team of medical professionals who take your care to heart.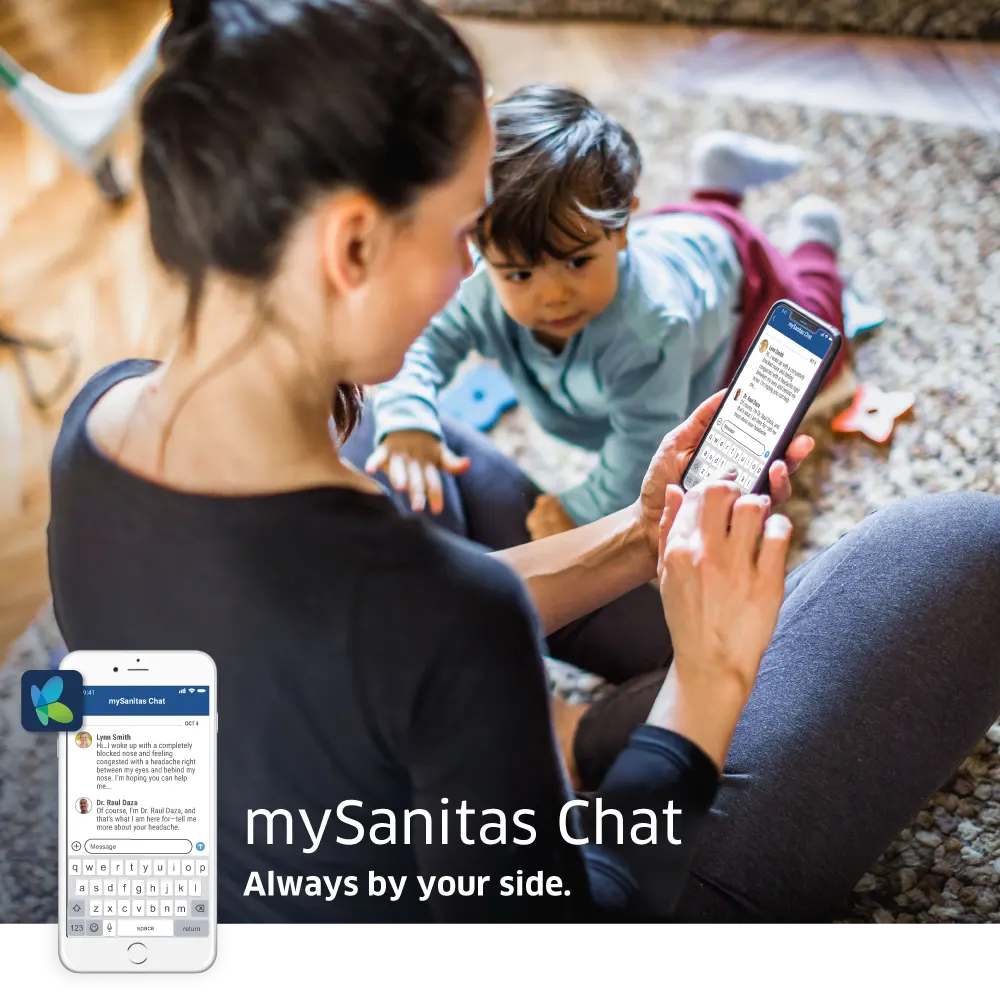 Your health.
We have an app for that.
Connect to Sanitas doctors and care teams on the phone, video or chat at no cost from wherever you are.
Get real-time support from Sanitas when you're feeling ill or have a minor injury.
Better manage your conditions and health goals with quick answers to your medical conditions.
Keep your health records all in one place – at Sanitas.
Expert health care covered by BCBSTX.
Sanitas Medical Centers are in the Blue Cross and Blue Shield of Texas network.
We are working together to bring you an easier way to access health care.
That's why we're better together.
Care designed with you in mind.
"Staying active is a requirement in my family."

Health and wellness programs tailored to fit your life.

"My diabetes, high blood pressure and COPD are dragging me down."

Get help with managing your chronic conditions.

"Time to see a doctor? No can do."

Schedule a televisit or text with our care team.

"I'm not feeling like my usual self."

Health programs tailored to your needs.

"Kids! If there isn't something every day."

Sports physicals, walk-in urgent care and app resources keep life moving.

"Surgery won't stop my momentum."

Follow-up care means we're always with you.

"I don't have time to run all over town."

Healthcare all under one roof and at the tap of a button.
To know us is to trust us.
50% more time spent with patients | 94% satisfaction rating | 100% love working here, and taking care of you

Places and faces for care your way.
At Sanitas, you're a VIP (Very Important Patient). Your dedicated primary care doctor and a team of nurses, care coordinators, nutritionists and specialists ensure you're cared for, head to toe. Choose your care team or choose the location closest to you.
Clinical services provided by Sanitas Medical Centers, which are independent medical centers serving individuals covered by Blue Cross and Blue Shield companies.
Blue Cross and Blue Shield of Texas, a Division of Health Care Service Corporation, a Mutual Legal Reserve Company, an Independent Licensee of the Blue Cross and Blue Shield Association.