Sanitas Employee Solutions
Sanitas helps organizations improve health, reduce costs and retain employees by offering treatment and services that make the care of employees and their families a priority. Employee Solutions is uniquely designed to enhance the member experience.
Sanitas has dedicated care teams to support Employee Solutions members—so they get the same VIP treatment as all Sanitas patients, but with same-day or next-day appointments and little to no wait time at the office because they are exclusive to a set number of organizations and their people.
Proof is in the Numbers
Primary care services survey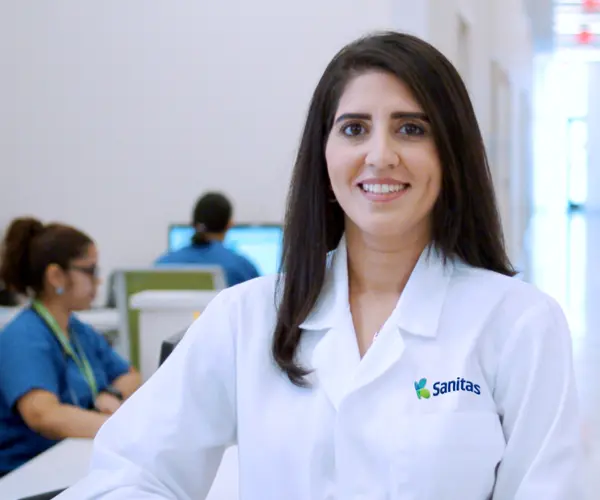 Forward-thinking care
"Our aim with Sanitas Employee Solutions is to increase patient engagement through a hands-on, personalized, holistic approach to health care. Reimagining the way care is delivered results in lower costs through improved health—and a happier, healthier workforce."
Jessica Ricks
Chief Growth Officer, Sanitas
A clear path to superior health care
Greater access to care
Comprehensive care including primary and urgent care, labs, imaging, specialists, mental health and wellness programs.
Dedicated provider teams
Compassionate, dedicated primary care providers and staff who listen and spend the time personalizing and navigating care.
Increased productivity
Ease of care and 24/7 access means less time missed from work by promoting good health for employees and their families.
24/7 connectivity to providers
Use the mySanitas patient app to get care 24/7 from a Sanitas doctor—no appointment needed. Then continue care in-person with the dedicated care team.
Care when you need it
Access to same-day and next-day appointments, in person and virtually, with little to no wait.
Integrated care
A team of health enthusiasts are here to support personalized care journeys. We offer nutritionists, behavioral health specialists and care coordinators.
* Sanitas Medical Center is a Florida Blue Value Choice Provider, a designation Florida Blue gives to some in-network providers including Sanitas. Primary care and urgent care visits at $0 do not apply to Health Savings Account (HSA) plans; the deductible will still apply. A total of two (2) urgent care visits are $0 for non-HSA plans regardless of which Value Choice Provider rendered services. After that, the urgent care cost share applies.
Sanitas Employee Solutions provides a dedicated care team model to people insured by Florida Blue (or other Blue Cross Blue Shield plans) with a health plan provided through their employer. This service is only available at select Sanitas Medical Centers.
Sanitas is an independent medical center, serving people insured by Florida Blue (or other Blue Cross Blue Shield plans), original Medicare or self-paying for medical treatment.
Florida Blue is an Independent Licensee of the Blue Cross and Blue Shield Association.