Omicron variant: What you need to know
COVID-19 / Sanitas Medical Center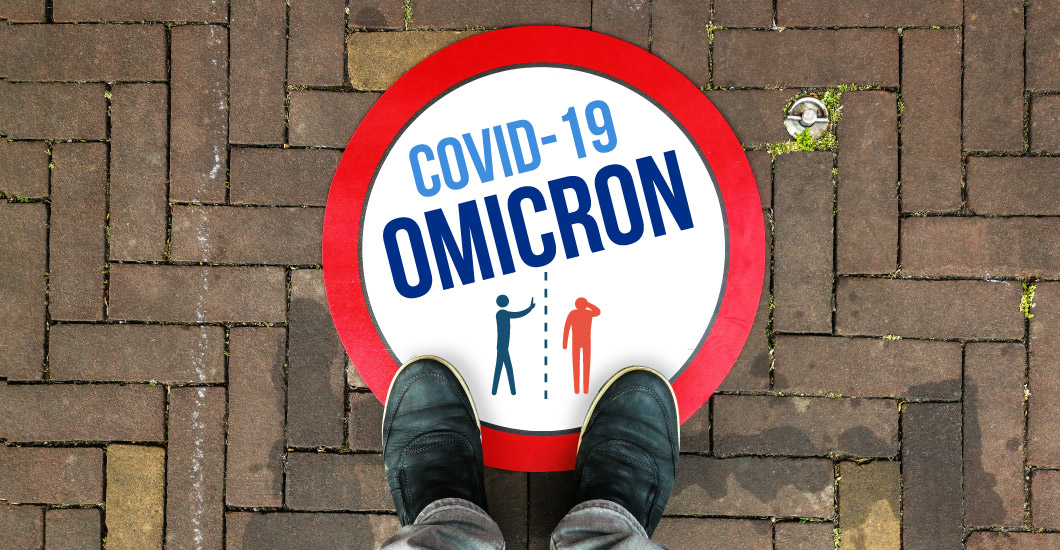 It has been 2 years since the first outbreak of COVID-19 disease. These days have not been easy and as a new coronavirus variant is here, Sanitas wants to keep you safe. Here is what you need to know about this new variant and how you can prevent it.
What is the Omicron variant?
Omicron is the name of a new variant of SARS-CoV-2, the virus that causes COVID-19. It was first detected in South Africa and it rapidly spread to other countries. By this time the Omicron variant has been detected in 90 countries around the world.
Up to December 2021, in the United States the Omicron variant was present in most of the states. The Centers for Disease Control and Prevention (CDC) are working hard to notify new details and recommendations to prevent, treat and stop its spreading. Let's talk about the most important topics to consider regarding the Omicron variant.
How does the Omicron variant spread?
Although it still spreads from person-to-person through air (within 6 feet through respiratory droplets), research shows that the Omicron variant likely spreads easier and faster than the original COVID-19 virus. Anyone with Omicron infection can spread the virus to others even if they are fully vaccinated or don't have symptoms.
What are the symptoms of the Omicron variant?
Omicron is still a variant of COVID-19. Preliminary analysis and statistics from the CDC show that it can behave like a common cold in people who have completed their vaccination schedule. This means their symptoms are milder and there are lower risks of severe illness.
Omicron shares mild symptoms of other variants such as:
Nasal stuffiness
Headache
Throat pain
Extreme fatigue
Muscle pain
Fever
Symptoms like the loss of taste or smell, shortness of breath or difficulty breathing are not common in the infection by Omicron variant in fully vaccinated people. In unvaccinated persons, the symptoms can be the same as classic COVID-19 disease (including Delta variant) and can also produce severe illness and death.
Can Omicron produce Severe Illness?
Infection with the Omicron variant in people that haven't been vaccinated can cause severe disease, hospitalizations, and death just like the original COVID-19 or the Delta variant infection. A fully vaccinated person will likely experience mild symptoms only.
Are current vaccines effective against Omicron and other variables?
Current vaccines are expected to protect against severe illness, hospitalizations, and deaths due to infection with any known variant, such as Alpha, Delta, Omicron, and even original COVID-19. However, infections in people who are fully vaccinated are likely to occur. Remember that if you are fully vaccinated you can still develop COVID-19, but symptoms will be mild and risks of severe illness will be low.
The recent emergence of Omicron further emphasizes the importance of vaccination and boosters. Now more than ever the recommendation to vaccinate is a must!
Following the CDC recommendations, Sanitas invites you to get vaccinated and receive a booster dose. Check this link to find a COVID-19 vaccine near you.
If I have already caught COVID-19, am I protected against the Omicron variant?
Although those who have had COVID-19 have some protection against the virus, this protection is inferior to the ones who are fully vaccinated. Everyone should complete their vaccination schedule and get a booster even if they have had the infection.
How can I prevent the infection from Omicron and other variants?
Key recommendations for prevention remain the same for every COVID-19 infection regardless of your vaccination status:
Get vaccinated.

It is the best measure to protect you and your beloved ones from COVID-19. Vaccination slows the transmission, prevents severe illness and reduces the emergence of new variants.
Avoid crowded or poorly ventilated areas, and avoid reunions as much as possible. Remember that there is no such thing as "Zero risk".
Wear a mask. This recommendation is still reasonable and effective. Remember to wear facial masks covering both your nose and mouth, especially in public indoor settings, in crowded or poorly ventilated areas, or in any area of substantial or high community transmission regardless of your vaccination status.
Wash your hands thoroughly every 3 hours with soap and water for at least 20 seconds.
Keep a distance of at least 6 feet from other people.
How can I know if I have the Omicron variant, or the Delta variant?
Tests to determine variants of COVID-19 are only performed for investigation and public health purposes. Those tests are not performed in the general population. Currently, there is no current way to know if you have a specific coronavirus variant, either with laboratory-based tests or home test kits.
If you were exposed to someone positive for COVID-19 regardless of your COVID-19 vaccination status, quarantine yourself at home and get tested on day 5 if possible. Don't forget to stay at least 6 feet away from others and always wear a facial mask.
What should I do if I have symptoms?
If you have flu-like symptoms, quarantine yourself, get tested and drink plenty of water. If you have shortness of breath or difficulty breathing, seek immediate medical attention. You can find more information about Sanitas' COVID services in our dedicated website for COVID-19.
Does current treatment for COVID-19 work for Omicron variant infection?
Yes. The CDC and the National Institute of Health (NIH) recommend the current treatment for any coronavirus variant.
But the most important thing is not the effectiveness of current treatments or the different variants prevailing. The most important thing is to take actions to prevent the spread of the virus. Being informed, being smart, being aware and getting vaccinated is the fastest way to return to normal.
Sanitas is here to support you and your family. We have a highly qualified team of doctors and health professionals to aid you with your health concerns. We offer telehealth and face to face visits tailored to your own individual needs. If you need medical support contact us through our website or call 1-844-665-4827.