How to eat healthy during quarantine?
COVID-19, Nutrition & fitness / Sanitas Medical Center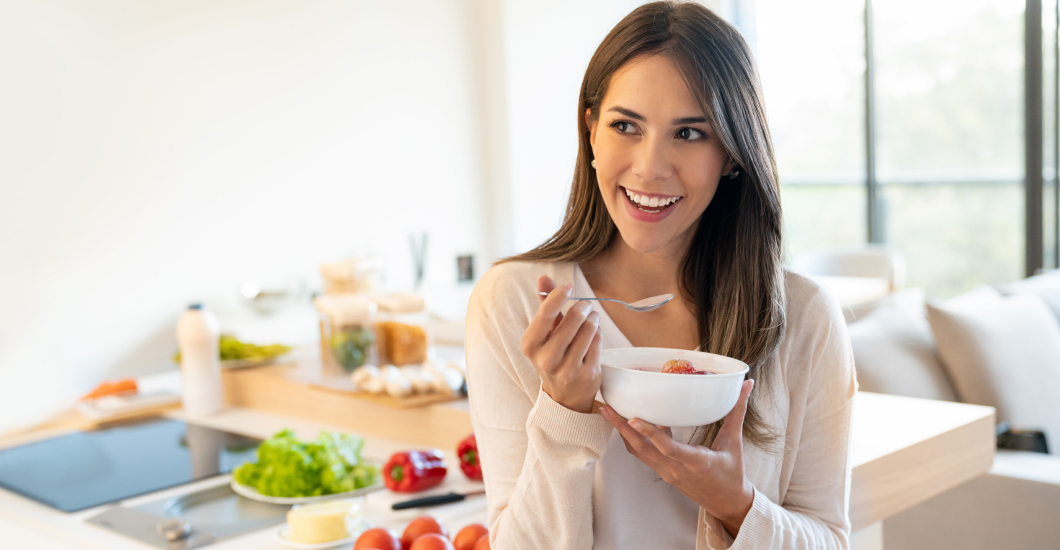 During this quarantine, eating healthy may feel like a challenge as we are at home with constant mood swings, boredom, and changes in our habitual routine of mealtimes. We all know that we must eat healthy but this does not mean that it must be in a strict way. At Sanitas we want to encourage you to eat whole foods on a frequent basis.
Why whole foods? This type of food allows you to keep a healthy diet. You can incorporate them little by little as part of each of your meals. Some whole foods that we recommend to you are vegetables, fruits, nuts, seeds, legumes, eggs, and good fats, such as avocado, olive oil, coconut oil or olives. Eating healthy does not mean eating broccoli all week or following a rigorous diet. The balance in the dishes that we eat daily is the most important thing. 
How can you make these changes? An example is to replace white rice for quinoa or choosing grain bread over white bread. If you have a craving for sweets you can replace them with nuts or seeds, cook with olive oil instead of corn oil, or if you want a soft drink prepare a flavored water with natural fruit.
At Sanitas we want to share with you the following 6 tips to help you simplify your meals and eat healthy during this quarantine:
Take time to plan your meals: We recommend that you plan your meals weekly. This will help you avoid buying fried food or any other unhealthy foods. Also, this will help you use only the necessary ingredients and you will spend less time in the supermarket. 
Keep whole foods in your kitchen: Ideally, keep some nuts, seeds, grains, dried vegetables and fish bags within reach. They are perfect for craving moments. Remember to integrate whole foods to your diet little by little, it will help balance your meals. An option could be a combination of proteins, carbohydrates, and good fats. For example, tuna + cucumbers and tomatoes + quinoa and avocado.
Freeze your food: Frozen foods can preserve their nutrients and do not lose their quality for up to 3 months. It does not matter if you buy fruits, vegetables, bread or legumes, those can be saved in resealable bags and stored in the freezer. 

Eat only when you are hungry:

During this quarantine, we can overeat simply because we are bored. Find activities that keep your mind busy like dancing, reading, learning to sew, or read more articles from Sanitas.
Make sure you eat at a normal pace: Did you know that when you take time to eat the brain detects when you are satisfied? This is called mindful eating. It will help you eat only what you need and nothing more.
Avoid unnecessary supplements: We do not recommend adding supplements to your diet without consulting with your doctor. If you want to add any, consult your doctor Sanitas doctor via a telehealth visit or in-person visit at a medical center near you.
Do not forget to stay hydrated with natural water. You can add a few slices of cucumber, orange, or red berries to improve its flavor.
Today and every day, the care and safety of our patients and team members are our number one priority. We will continue to work tirelessly to put things into place that will keep you safe. The Sanitas team thanks you for trusting us in putting your health first. If you are a current patient, please visit our appointment guides to schedule a virtual appointment with your Sanitas doctor: Florida, New Jersey, Connecticut, Texas.