Coronavirus: What you need to know and how you can prevent it
COVID-19 / Sanitas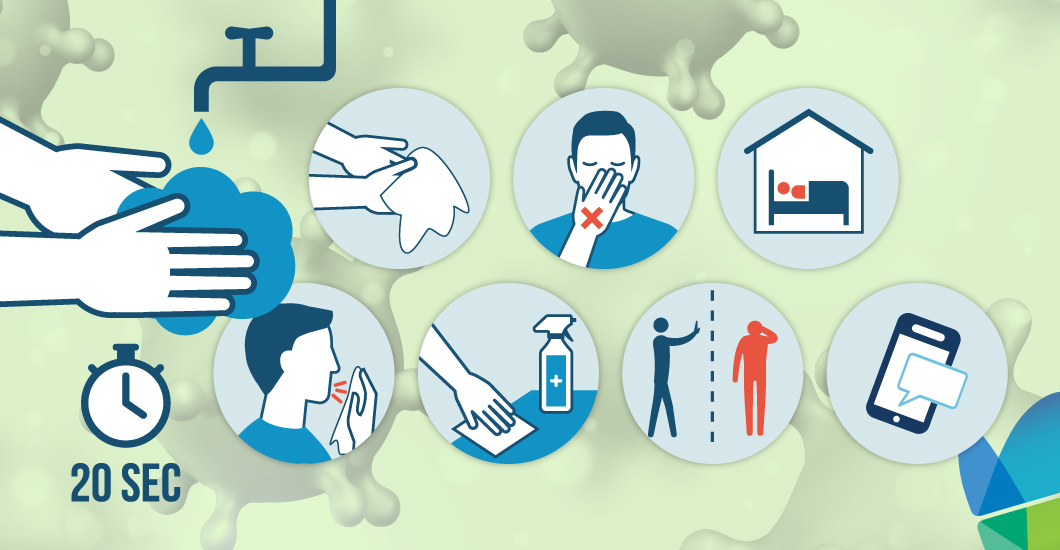 Coronavirus disease 2019 (COVID-19) is a respiratory illness that can spread from person to person. The virus that causes Coronavirus was first identified during an investigation into an outbreak in Wuhan, China. There are cases in the United States and many other parts of the world. Sanitas wants to keep you safe during this time. Here is what you need to know about this disease and how you can prevent it from spreading.
How it spreads
Coronavirus spreads mainly from person-to-person either between people that are in close contact with each other, usually within 6 feet, or through respiratory droplets when an infected person sneezes or coughs. These droplets can be inhaled or land in the mouths or noses of non-infected people, causing them to become infected. It may also be possible to spread Coronavirus by touching a contaminated surface or object. If you touch a surface or object that an infected person touched and then you touch your mouth, eyes, or nose, you may become infected as well. This is not thought to be the main way that the virus spreads, but it is also a risk factor. 
People at higher risk
There are certain people who are at higher risk than others. Older adults and people who have a serious chronic condition such as heart disease, diabetes or lung disease are at higher risk. If you are an older adult or someone with a serious long-term health problem, you should take actions to reduce the possibility of getting sick with this disease. Avoid large gatherings and public transportation if you are in an area with an outbreak. If you do get sick, stay home and call your doctor.
Symptoms
Coronavirus symptoms have ranges from mild to severe, and in worse cases have resulted in death. Symptoms may appear 2 to 14 days after exposure with an infected person. The symptoms may be:
Fever greater than 100.4
Cough or sore throat
Shortness of breath or difficulty breathing
Chills or repeating shaking with chills
Muscle pain
Headache
New loss of taste or smell
Contact with anyone within the last 14 days who had COVID-19 
Prevention & Treatment
At the moment there is no vaccine to prevent Coronavirus disease. The best way to prevent getting infected is to avoid contact with people who are sick. There are several recommendations by the CDC1 to guide you in staying safe as well as preventing the spread of this disease:
Do not travel to countries who have experienced an outbreak unless it's absolutely necessary
Avoid contact with people who are sick, especially touching or shaking hands
Wash your hands often with soap and water for 20 seconds or longer, or use an alcohol-based hand sanitizer with at least 60% alcohol if soap and water are not available
Dry your hands with a clean towel or air dry your hands
Avoid touching your eyes, nose, or mouth with unwashed hands or after touching surfaces
Cover your mouth with a tissue or sleeve when coughing or sneezing
Clean and disinfect "high-tough" surfaces often
Call us at 1-844-665-4827 or chat with us first before visiting your nearest Sanitas Medical Center
Stay home if you are sick and keep your children home if they are sick
You may see a lot of people wearing a facemask. The CDC1 does not recommend that people who are healthy wear a facemask. These facemasks should be used by people who have symptoms related to Coronavirus and by health workers or people who take care of others to avoid spreading this disease. 
What to do if you are sick
If you are sick or are concerned that you have been infected with this virus, there are several things you can do to prevent the disease from spreading to your loved ones and people in your community. Besides following the items in "prevention and treatment", you should:
Stay home and call us at 1-844-665-4827 first before visiting your nearest Sanitas Medical Center
Monitor your symptoms and seem prompt medical attention if your illness is getting worse
Avoid public areas and public transportation 
Try to isolate yourself in one room and stay away from other people in your home
Limit contact with pets and animals as it is unknown whether this affects animals
If you have a medical appointment, call ahead and tell them you may have Coronavirus
Wear a facemask when you are around other people or pets and advise people who are around you to wear a facemask as well
Cover your mouth and nose with a tissue when you cough or sneeze
Wash your hands with soap and water often, especially after coughing or sneezing
Avoid touching your eyes, nose, and mouth with unwashed hands
Do not share dishes, drinking glasses, utensils, towels, or bedding with other people or pets in your home while you are sick
Clean all "high-touch" surfaces in your home everyday
(1) CDC Centers for Disease Control and Prevention.